104 North Kentucky Avenue
P.O. Box 1344
Corbin, Kentucky 40701
Telephone: (606) 528-0616
Fax: (606) 528-0709
About Howard Mann Law
Howard O. Mann, P.S.C., is the successor firm of Trimble and Mann, P.S.C., which was established in 1983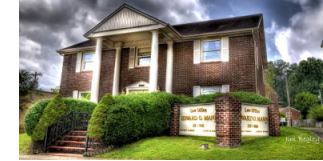 by Allen Trimble and Howard O. Mann. Mr. Trimble left the firm in July, 2000 after being elected full time prosecutor (Commonwealth's Attorney), and, the name changed to Law Offices of Howard O. Mann, P.S.C.
The firm concentrates on general civil and criminal litigation, trial practice in state and federal courts, personal injury (including products liability), insurance, mineral and employment law.
The firm has prosecuted or defended products liability cases involving the Dalkon Shield, rollover/roof crush cases (Nissan), rollover (Jeep-American Motors Corp.), coal mine elevator (Schindler Elevator), lawnmowers, electric heating pads (Kaz, Inc.), phenolic resin (Durite-Borden Chemical), and defective seatbelts (Ford-Lincoln-Mercury).

Representative firm reported appellate decisions:
Dr. Glenn Ray Baker v. City of Corbin, 556 S.W. 2d 449 (Ky. App. 1977);
Maynard Thomas v. Harold Collingsworth, 606 S.W.2d 159 (1980);
Peoples Gas Co. of Kentucky, Inc. v. City of Corbin, 625 S.W.2d 848 (Ky. 1981);
Jape McCoy, Jerry McCoy and John Stanley v. American Fidelity Bank & Trust Co., 715 S.W.2d 228 (Ky. 1986);
American Fidelity Bank & Trust Co. v. Hinkle, 747 S.W.2d 620 (Ky. 1988);
Terry Farris, Linda Farris and Workers' Comp. Board v. Huston Barger Masonry, Inc. and Kentucky Associated Gen. Contractors, 780 S.W.2d 611(Ky. 1989);
Thurston Allen Hensley v. Good Samaritan Hosp. and John Cullen, M.D., LEXIS 78 (Ky. App. 1989);
Chrysler Credit Corp. v. H.H. Chrysler-Plymouth-Dodge, Inc., 927 F 2d 270 (6th Cir. 1991), Diana Baker v. Ruth Webb, Hamilton Mutual Ins. Co. and Westfield Ins. Co., 883 S.W.2d 898 (Ky. App. 1994), discretionary rev. denied, October 19, 1994 by Supreme Court;
Flying J Travel Plaza and Kentucky Flying J, Inc. v. Commonwealth of Kentucky, Transp. Cabinet Dept. of Highways, 928 S.W.2d 344 (Ky. 1996);
Huston Barger Masonry and Kentucky Associated Gen. Contractors v. Terry Farris, Ray and Naomi Farris, Court Appointed Guardians, 924 S.W.2d 838 (Ky. App. 1996);
State Street Bank & Trust Co. v. Heck's Inc., 963 S.W.2d 626 (Ky. 1997);
Wallace Hardware Co. v. Abrams, 223 F. 3d 382 (2000);
Seymour Charter Bus Lines, Inc. v. Hon. Lewis B. Hopper, Judge, et al., Ky., 111S.W.3d 387 (2002).

Miscellaneous:
Martindale-Hubbell (AV Rated - since 1999)
Best's Recommended Insurance Attorneys
Kentucky Super Lawyers (2010)

Team Bios: Coming Soon
(Name and Position):

info here

(Name and Position):

info here

(Name and Position):

info here

(Name and Position):

info here

(Name and Position):

info here